Schedule curbside pickup for your holds
For Tinley Park Public Library cardholders who do not feel comfortable coming into the library, we are offering curbside pickup of holds. If you have received a notice that your holds are ready to pick up, you may now schedule curbside pickup online or in our app. Curbside pickup is available Mon-Sat from 10 am-2 pm.
How it works
When you receive a notice that your holds are ready, you may schedule curbside pickup
Same-day appointments are unavailable
Your item(s) will be checked out to your account on the morning of your scheduled pickup date.
When you arrive to pick up your items, drive to the east side of our parking lot and pull into a designated curbside parking space
Text "Check In" to the phone number listed on the sign
You will be asked your name and parking space number
In the event of inclement weather, you may be asked to pull up to the Receiving Room doors
You will be instructed to open your trunk and staff will be right out to deliver your item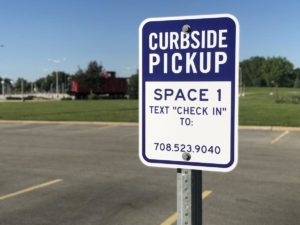 If you do not have a cell phone or do not have texting, park in a curbside parking space, walk to the double doors to our Receiving Room, and ring the bell. Staff will ask you the same questions, and you will be instructed to return to your vehicle and open your trunk. We will be right out to deliver your items to you!
If you decide to walk or bike ride to pick up your items, ring the Receiving Room bell. We will get your items out to you.
To help us offer you the best service, please keep to your scheduled appointment date and time. If you forget to pick up your items, we will contact you. If you need to reschedule, send an email to circ@tplibrary.org or call the Checkout Desk, 708.532.0160 ext. 3.